The Rosen Pineapple Theater Club is working from scratch as it rehearses to perform the first-ever musical for the club and for Rosen College of Hospitality Management, April 7-9.
Rosen will host the musical "The Drowsy Chaperone" at Darden Auditorium. Entertainment management specialist Blake Deuell said he had dreamed of putting on a musical since his first tenure at the club in 2019.
He said that although putting on a musical was his dream, there were always doubts that it would ever happen. As president of the Pineapple Theater Club and executive producer of the production, the actors said Deuell was "the glue" of the club and their musical.
"Nobody thought it was possible because of how hard and difficult it was to make a musical," Deuell said. "But due to the changing culture at the club, we were finally able to get the resources to try to make that happen."
The Pineapple Theater Club was established in 2018 as a student-run organization to provide a theatrical outlet for students of all majors.
Deuell said the first hurdle the club faced was the cost of the rights to the musical, which used up most of what they had saved. He was hoping that they would be able to use their money from the last semester to pay the rights and finance the technical elements, but the entire budget went to pay for the rights to the show.
This left the Pineapple Theater Club trying to figure out where the rest of the funding would come from. Dr. Ray Eddy, senior lecturer in entertainment management at Rosen and an educational adviser to the club, said the club plans to sell advertisements to local businesses in posters and earn enough money to support production efforts.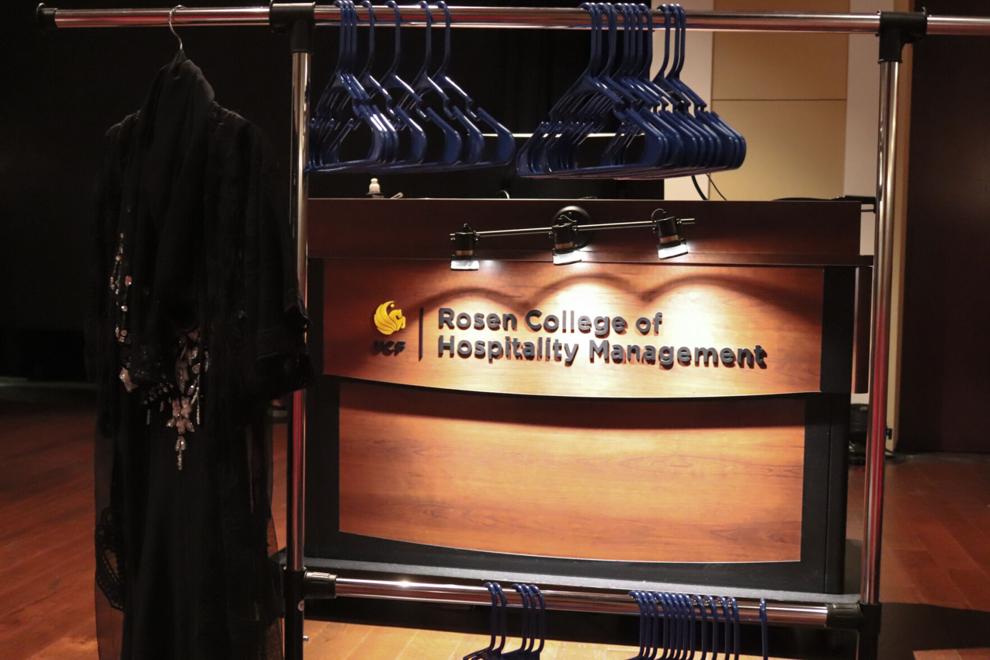 Deuell and other club members have worked to save money in previous semesters. During the fall, the club presented a Murder Mystery dinner party which sold out and brought in most of the money it spent on producing its musical.
Junior entertainment management major Kendall DeVecchis is co-directing the production with freshman entertainment management major Kat Royce. DeVecchis said the first step was to choose the musical the club wanted to do and then get the rights to that musical.
Deuell partnered with DeVecchis and Royce to decide on the musical and choose the cast.
DeVecchis said the rehearsal schedule revolves around the availability of their cast and crew. She said that because it's run entirely by students, it has to accommodate multiple people's schedules.
"I'm still here with Kat and Blake, and if we're not directly doing our job, we're still watching what's going on," DeVecchis said. "A lot of nights consist of Drowsy Chaperone rehearsals."
Eddy said he first suggested the idea of ​​a drama club at Rosen to students five years ago, and helped bring it to fruition. All production and the club itself are student-run.
Eddy said the students do all the work themselves and he was right there to help whenever they needed it.
"I would like to give them the chance to explore whatever role they want in their own way," Eddy said. "I make it a point not to step in and take over as producer or director or whatever."
Eddy said another hurdle the club faced when trying to put on a musical was that Darden's auditorium was not designed for theater productions. There isn't really a backstage area with dressing rooms or places to store costumes, props, and sets. He said the production members had to be creative to make it work.
"Without failing, Rosen College is not designed as an art school. It's a hospitality school," Eddy said. "The facility where they perform is not a traditional stage. It's more of a presentation space."
UCF's main campus props team helped by giving the Pineapple Theater Club full access to their props closet. DeVecchis said that because club members were working from scratch, they had no props or costumes on hand.
Although Deuell said production efforts to create a musical from scratch have been sporadic, he looks forward to leaving that legacy behind in his final semester at Rosen.
"I hope what I've accomplished as a leader rubs off on the students in the future and that the ambition and drive continues," Deuell said. "And they continue to do great things because they are absolutely capable of it."