Singer/songwriter/producer Charlie Puth has announced that he will be releasing his third studio album, CHARLIE, to fans across North America with the "One Night Only" tour. A series of just eight shows in North America and Canada this fall, the intimate underplay series will debut in New Jersey on October 23. at the Count Basie Center for the Arts followed by a performance at the Beacon Theater on October 25, 2022.
Preparing to release their highly anticipated third studio album CHARLIE, due October 7e via Atlantic Records, Puth has accompanied his fans every step of the way. With the "One Night Only" tour, he welcomes them up close and personal while exhibiting his most personal work to date.
Releasing his latest track, "I Don't Think That I Like Her," Puth leans into a heavily vocal-driven melody while Travis Barker maintains a rugged beat on drums to create a high-energy punk-style chorus. .
Tickets go on sale to the general public on Friday, September 23 at 10 a.m. To access the pre-sale and find more ticket details, go to charlieputh.com/tour.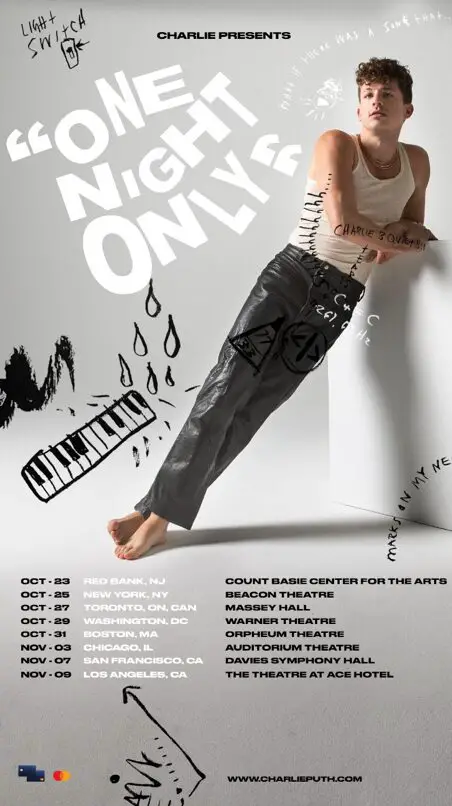 Although it is weeks away from its release, CHARLIE, has already surpassed one billion global streams with the help of latest releases "Smells Like Me", "It's Hilarious", "Light Switch" and current single "Left and Right [feat. Jung Kook of BTS] which has garnered over 370 million streams alone and is Puth's most successful debut album to date. Continuing that momentum, he recently released a dynamic remix of the hit collaboration track with help from the GRAMMY-nominated electronic music duo Galantis.
"One Night Only" Tour Dates:
10/23/22 – Red Bank, NJ – Count Basie Center for the Arts
10/25/22 – New York, NY – Beacon Theater
10/27/22 – Toronto, ON, CAN – Massey Hall
10/29/22 – Washington, DC – Warner Theater
10/31/22 – Boston, MA – Orpheum Theater
11/03/22 – Chicago, Illinois – Auditorium Theater
11/07/22 – San Francisco, CA – Davies Symphony Hall
11/09/22 – Los Angeles, CA – The Ace Hotel Theater